An email autoresponder is a delivery system containing pre-written emails sent to readers are pre-determined intervals aimed at keep the reader engaged and moving them forward towards acquiring a business's product or service.
Some things just work better when they're automated. Email autoresponders can help you connect with clients, increase sales, and present your business the way you want.
Let's look at what an autoresponder is, how it works, and how it can help your business.
Want to SAVE this article as a PDF? Click the link in the banner
What is an email autoresponder?
An email autoresponder is a way to automate communication with customers, which keeps them informed and engaged. Once set up, your autoresponder sends an email based on parameters that you put in place – you define the rules or intervals that will trigger an email being sent out.
For example, it's common to set up an email to go out once a customer signs up or makes their first purchase, in the case of a special event like a birthday, or to send reminders to finish checking out.
The email only needs to be written once, the scheduling or parameters set up, and then the autoresponder can help you take care of your customers. It's a relatively low-effort way to get big results.
Why should you use an autoresponder?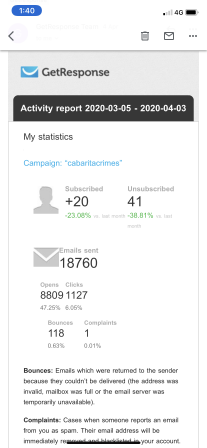 [Brisbane Copywriter image]
An email autoresponder does save time, but there are many other reasons you should consider using one. It's a great way to make targeted and immediate contact with your customers, in a way that benefits them and gets your business across in the best light possible.
It's not a strategy that's just for big businesses. There are plenty of options available to businesses of all sizes, for a range of budgets. Sending emails really needs to be high on the priority list, to establish a connection between customers and the business, and automation takes the hassle out of the job.
You can ensure that important communication is getting to your customers, without you needing to remember to send it. As your business grows, it becomes less likely that you'll be able to handle all the contact yourself, and there's no way you'll be able to effectively remember things like sending birthday discounts – not to mention the amount of time it would take.
When to send an email autoresponder message:
Sign up
Welcome emails. When a customer first makes contact with your business and leaves details, it's vital that you establish a connection as soon as possible. A welcome email is the first step to creating that connection.
Brand information. When you have been entrusted with a customer's contact details, you have the opportunity to present your business in the best light possible. It's an opportunity to greatly influence how they perceive your business, which in turn influences their engagement going forward.
Special events
Discount codes. It's almost impossible to manually track how customers are engaging with your business, but an automated email system can help. You have the option to set parameters that can offer discounts based on customer behaviour – for example, a discount code sent after checkout that allows them a reduced price on their next purchase.

Birthday bonus. Sending a bonus on a birthday, holiday or other special event is another example of how to utilise an automated email system. Not only does it encourage purchases, it adds a personal touch to your business communication.
Reminders
Abandoned cart. If a customer has begun shopping but left their cart, an automated email can drive them back to complete their purchase. If they're on the fence, the reminder can be the push needed to get the sale.
Reactivation emails. If there has been a long time since a customer last engaged with your business, an automated email can remind them and get them back on board.
Sales reminders. When planning a sale, a series of automated emails can create hype and excitement leading up to the event.
Will I ever have to send another email?
An email autoresponder is a good "set and forget" option, but you'll still need to craft emails. Special announcements, newsletters, and responding to customer enquiries will need to be done separately.
You'll need to periodically review the auto-emails that you're sending as well, to make sure that the information is still relevant and up-to-date. You should also periodically review how effective your communication is – could you send more emails? Are people being overloaded? Is the content conveying your message correctly?
So while an automated email service is a huge time saver and has the potential to boost sales, customer engagement and your brand image, you'll still need to stay hands on to some degree. 
Getting your emails automated
Just because a process is automated, doesn't mean it's impersonal. An email autoresponder can be used to convey your brand image, to stay in contact with your customers and to support them to engage with your business. There are a range of different platforms that offer an email autoresponder function.
You'll still need to personally engage with customers, but an autoresponder takes the tedious and otherwise impossible job of remembering customers and engaging them, and leaves you free to take care of the most important aspects of running your business.
Autoresponder email examples
What doe autoresonder emails look like> Here are four of the best autoresponder email example recently voted by Campaign Moniter.
1. The personal touch email
In a paper entitled, The Power of Personalization, thought leader Forrester Consulting determined that personal marketing is more effective.
"Personalization is more important today than ever before. The proliferation of devices and channels, such as mobile and social, has fundamentally changed the way that customers interact with companies and brands.
This has led to what Forrester calls the mobile mind shift: the expectation that you can get exactly what you want in your immediate context and at your immediate moment of need."
In general, their analysis showed that:
Marketers that want to increase engagement must use personalized marketing to be effective.
The more pain points you have for your customers, the more challenges you'll have personalizing your marketing.
Many firms don't use customer interaction to discover how to best personalize their campaigns.
While you may—or may not—be on top of all those tasks, the first one is the most important. If you're not already using personalized email marketing, it's time to start.
Here's an example of a brand that's got it down to a science, Sephora.
This email is bright, bold, and personal, the perfect way to entice their customers back into the store.
While this email is only using the customer's name that can be enough to move someone to purchase.
You can combine that with showing them similar products to the ones they've purchased in the past for further personalization. Add the special savings and it's a formula that just can't lose.
2. The confirmation email
More people than ever are ordering online. Numbers from Statista show that figures are going to skyrocket in the next few years—topping out at over 230 million people in 2020.
That's a lot of customers and—if you're a smart email marketer—that's a lot of emails, too.
Nothing says you care more than an email letting your customer know that their order went through and is being shipped.
It's instant relief and instant gratification all rolled up into one smartly-done email. And no one does this better than online shopping giant Amazon.
Here's a look at one of their autoresponder confirmation emails, sent within 30 seconds of the order.
Notice what else they have built into their autoresponder series? A shipping confirmation. Another great idea for your email idea box. Here's what theirs looks like:
Notice how simple and uncluttered this email is. Just the facts, but ones that will help your customers feel like you have their backs.
3. The welcome email
One of the most important emails in a series, your welcome email helps customers feel appreciated, showcases your brand, and prompts them to take the next steps in getting to know—and love—what you're offering.
Look how art and craft supply giant Michaels wows new customers with their welcome email.
Notice the "crafty" way they nail their brand image with graphics and layout that makes the whole email look like a big project.
They not only express gratitude for their new customer, but they add a coupon as an enticement.
Once you know that their emails might hold this kind of value, you'll be sure to open every single one.
4. The support email
The right support email can take that frown and turn it upside down for your frustrated or unhappy customers.
There are varying kinds of support emails, depending on where you and your customer are in the situation resolution pipeline.
These can range from:
We're working on it.
We're still working on it.
We've resolved the issue.
Did we do a good job?
Here's how you can fix the problem yourself.
For the purposes of this post, let's focus on the most common, the "We're working on it" email.
This email is critical because it lets your customer know that you've received their query and that you're taking it seriously.
To make them even happier with your service, personalize this email. Here's an example from Jet.com.
It's clear, concise, and most importantly, personalized. Note that you're also letting them know you appreciate their loyalty.
Notice in the above autoresponder email examples how these companies are speaking in a customer's language to get their attention and deliver their message.
Usage of great images also pulls eyeballs to the email
Autoresponder free
Should you go for a free service or paid? Most autoresponder providers will give you a free trial period but eventually you'll need to get their paid version. The paid version also opens up more options for the user.
Here's what WPBeginner said about autroresponder free
1. Constant Contact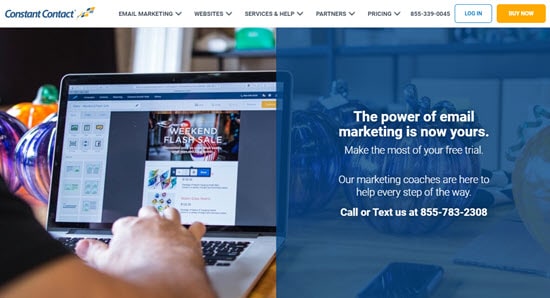 Constant Contact is the best email marketing service in the world. It's our top pick for creating autoresponder sequences.
Pros
Their free trial lasts a generous 60 days. That gives you two months to build up your email list and start making money from your blog.
The free trial doesn't require any credit card details, so you won't be billed unless you actively choose to continue using Constant Contact.
It's fast and easy to set up your account. You just click a few options and Constant Contact shows you some useful resources based on your answers.
If you already have a website, Constant Contact can set up your email design based on your website branding. It scans your website to find images and colors and creates several layout options to choose from.
You can also pick from hundreds of other templates.
The drag and drop interface is really easy to use. This is especially helpful if you're new to email marketing.
The Constant Contact support team is easy to reach through live chat, phone, and email.
They also have a library of resources and online training. If you're in the United States, you could even take advantage of their in-person live seminars.
Cons
There's no free forever plan available. After the 60-day free trial, you'll need to pay if you want to keep using your email list. WPBeginner users do get 20% off with Constant Contact coupon.
To use most of the automated features after your free trial, you'll need to pay for the Email Plus plan.
Pricing
Constant Contact "Email" plan costs from $20/month which comes with basic automation features.
For advanced automation features, though, you'll need the "Email Plus" plan which starts from $45/month.
2. Sendinblue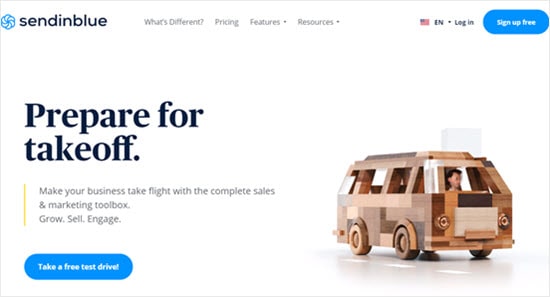 Sendinblue is a marketing automation platform that combines both email and SMS marketing. They are one of the fastest growing email autoresponder platforms in Europe.
Pros
You can store as many email contacts as you want on the free plan. You're just limited by how many emails you can send out each day.
The majority of Sendinblue's tools are available on their free plan. These include the automation tools.
You get access to email support on the free plan, so you can contact the support team if you're having any problems.
You can use Sendinblue to send SMS messages as well as emails.
The marketing automation tool, which is how you create automation sequences, has an easy drag and drop interface.
There's a wide range of different templates available, or you can drag and drop elements to create your own template. You can also upload an HTML template if you've already created one separately.
Cons
Emails on the free plan (and on the "lite" plan) have Sendinblue's branding on them. You can't remove this.
The 300 emails per day limit might seem like a lot when you're just starting out, but this goes away quite fast, so don't let the forever free plan be the only decision factor.
Pricing
Sendinblue's free plan is completely free. If you want more features, you can upgrade to a paid plan. The cheapest plan, Lite, is $25/month.
Their plans are priced based on how many emails you send each month, not on the size of your list.
3. MailerLite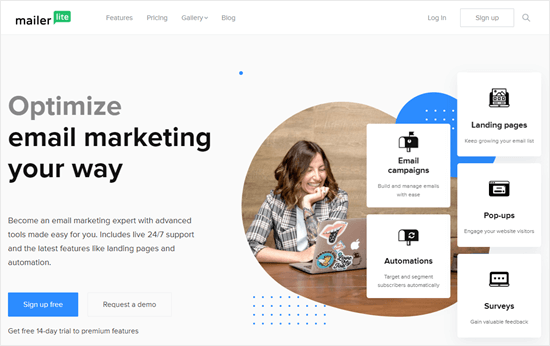 MailerLite has become a popular autoresponder tool over the past few years. They have a generous free plan and lots of great features.
Pros
You can use autoresponders and advanced segmentation on the free plan, without any need to upgrade.
Lots of other features are available on the free plan, such as landing pages, multi-user accounts, and A/B split testing of emails.
The free plan doesn't limit you to a set number of emails per day. Instead, there's a monthly limit of 12,000 emails.
Even the cheapest paid plan gives you access to all the "Premium Plans" features. These include A/B testing of landing pages, auto-resend, and delivery by timezone.
There's a drag and drop editor that you can use to create your emails. You can add and remove blocks easily, change fonts and styles, and more.
Cons
There aren't any email templates available on the free plan. When you use the drag and drop builder, though, it has a simple default template with space for a logo, header, image, etc.
If your list grows beyond 1,000 people, you'll need to upgrade to a $15 or more paid plan.
Your emails will have the MailerLite logo on them. You can't remove this while on the free plan.
Pricing
MailerLite has a free plan that you can use for as long as you like. The cheapest paid plan is $10/month, but if you want more than 1,000 subscribers on your list, you'll need to pay $15/month or more.
All the paid plans have the same features available, so you're simply paying as you increase your number of subscribers.
4. AWeber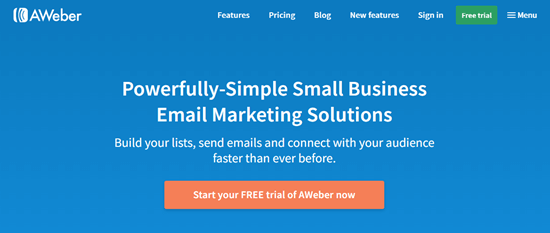 AWeber offers a free trial, which gives you full access to all its features. It's a popular email marketing service, with powerful autoresponder tools.
Pros
AWeber has been around for a long time. It was founded in 1998 and is now one of the most established autoresponder tools out there.
The free trial includes all the features you'd get on a paid plan
AWeber has powerful automation and segmentation tools. You can use it to create some very detailed autoresponder series.
AWeber can be integrated with a huge number of other services, including OptinMonster, Unbounce, PayPal and more.
All the support materials, including master class sessions and live webinars, are available even when you're on the free plan.
AWeber brings out new features regularly, and all customers get access to these. That includes people on the free plan.
Cons
The free trial is only 30 days. This doesn't give you all that long to start making money from your email list.
AWeber definitely isn't the cheapest option out there. It has more features than some other email autoresponders, but these do come at a price.
Pricing
AWeber's cheapest plan is $19/month and that only lets you have up to 500 subscribers.
After that, you'll be paying $29/month. If you want more than 2,500 subscribers, you'll be on the $49/month plan.
5. Mailchimp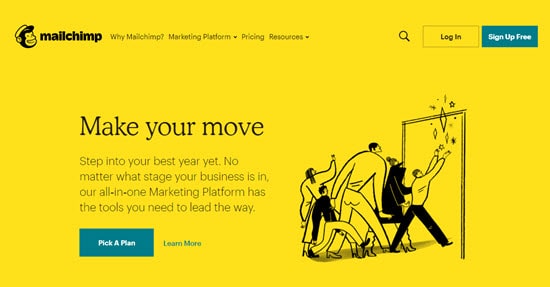 Mailchimp is a very popular email marketing service with tons of features to automate your emails and a free plan.
Pros
The free plan lets you use segmentation and simple autoresponders. It could be a great fit if you just want to use a bit of automation.
Mailchimp integrates with over 300 apps, including Canva, SeedProd's Maintenance Mode Pro, Help Scout, and many more.
The drag and drop templates are easy to set up and modify.
Mailchimp is becoming an all-in-one solution with a built-in CRM tool. If this is what you're looking for, Mailchimp could be a good option for you.
Cons
The free plan only includes email support for the first 30 days. After that, you'll only have the knowledge base documents to help you.
There'll be MailChimp branding on your emails if you're on the free plan.
You can't create multi-step autoresponder sequences on the "Free" or "Essentials" plans.
MailChimp's customer support, pricing structure, and features are definitely not the best out there. We no longer recommend them to our readers and suggest these MailChimp alternatives instead.
MailChimp's automation tools aren't as powerful as those of their competitors. This is a particular problem if you're mainly interested in using them as an autoresponder.
Pricing
MailChimp has several different pricing systems, which can be a bit confusing. You can either opt for a monthly plan (from $9.99/month for the "Essentials" plan) or you can use "pay as you go" pricing (from $150 for 5,000 emails).
Note: MailChimp's pricing tires are based on your "contacts". These include people who've unsubscribed and those who haven't confirmed their email address, as well as your actual subscribers.
6. ConvertKit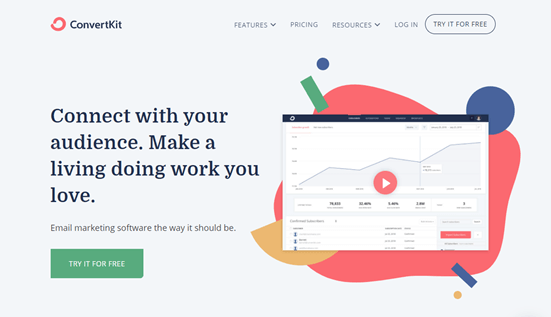 ConvertKit has recently launched a free plan, which allows you to build unlimited landing pages and opt-in forms. It's a good way to start building your email list.
You can also take a 14 day free trial of ConvertKit.
Pros
If you're using an optin incentive, ConvertKit has a great delivery mechanism for these. It's particularly well geared up for professional bloggers.
ConvertKit has lots of different ways you can segment your customers. You can also assign tags to customers.
There's a landing page builder that you can use to create attractive landing pages. There are 30 templates to pick from and you can customize the design.
Setting up your free account is really quick. It takes just seconds and you can get started on building your landing page straight away.
Cons
You'll need to invite a friend if you want to unlock most of the features of the free plan, including the ability to actually send emails!
You can't use the automation functionality on the free plan. You'll need to upgrade to a paid plan if you want to use this. You can try it out on the 14-day free trial, though.
Pricing
ConvertKit has a limited free plan. After this, the cheapest plan is $29/month, which covers you for up to 1,000 subscribers. The next tier is $49/month for up to 3,000 subscribers.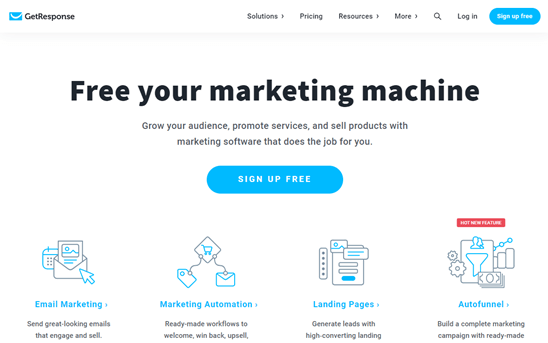 GetResponse is a popular and easy to use email marketing service aimed at small businesses. It doesn't have a free plan, but there's a 30 day free trial available.
Pros
You can try any of their paid plans free for 30 days, including the Professional plan that lets you run free webinars. You don't need to enter any credit card details.
GetResponse can be integrated with OptinMonster, PayPal, Shopify, ClickBank, and many other tools.
Support is available through phone, live chat, and email. There's also a comprehensive help section.
Once your free plan is over, you can still use autoresponders on the lowest-priced plan.
Cons
There's no free plan, just the 30-day free trial. This doesn't give you very long to get your email list up and running.
For some of the more advanced automation features, you'll need to move up to the Plus plan. This also gives you things like webinars, but if you don't want those, you may feel it's quite expensive.
Pricing
The different plans offer different features. For instance, from the Plus plan up, you get webinars and an automation builder. The cheapest plan, Basic, is $15/month for up to 1,000 subscribers.
Start your autoresponder free trial for Getresponse
Read the comparison here Getresponse vs Mailchimp or Getresponse Vs Active Campaign
Autoresponder Gmail
Some people use Gmail to send autoresponder messages but it's very limited as compared to the above service providers.
Amit Agarwal discusses autoresponder Gmail here in this short video
Conclusion
So what is an email autoresponder?
Emails sent to your list at set intervals. They remail evergreen. No matter when you get a new subscriber they can start at your first message and they'll be sent further emails at set periods automatically.
In this article we outline how to write an email autoresponder, what are the best autoresponder email examples and which autorespnder free services including autoresponder Gmail you might consider.
While free sounds attractive eventually you'll need to grab a paid email autoresponder. This is the service we've used for 15 years. (you can check it out with a free trial)