Why Nobody Is Reading Your Emails And How To Get Over Yourself
Emails, emails, emails!
You're writing emails but it seems that nobody is listening to you. Inside each well crafted email message there are gems you're just dying to share with the world.
You mix your emails up hoping to create a little magic.
You add video
You mix up your headlines. Some are long, short, quirky and even funny but still nothing.
Crickets. Not a peep out of your list. Hmmm frustrating isn't it.
Here's 6 mistakes you might be making as to why nobody is reading your emails that are not so obvious and how you can fix them.
Mistake #1 You've Got No Plan
You're posting your emails 'willy-nilly'. You're sending out stuff without really thinking about it. It's an ad-hoc approach without structure or purpose.
You don't have a plan for your emails. You're just sending whatever comes to mind in any given instant. There's no strategy as to where you are going and therefore this is why nobody is reading your emails. Your customers feel lost
How to fix it
An email strategy is the glue that binds your content and actual execution of sending out your content. It's an expression of your vision, your voice if you like and it clearly demonstrates where you are headed.
Sit down with your team and decide on what you want to achieve with your emails as a whole. Segment your overall plan into bite sized chunks and create a plan or strategy around each campaign that will lead to your goals. Put simply, you need a plan.
Mistake #2 Not Sending Enough Emails
There's a fine line between what is enough and what's too much.
If you listen to email gurus like Ben Settle or John Buchanan they advocate sending an email every single day.
Consistency does win the day but are daily emails too much?
How to fix it
According to a Moz survey in 2017 quality overrides quantity. The survey found that businesses that sent of daily emails filled to poor quality content got more unsubscribes than those who sent out a few more informed emails every month.
The survey found that around about six emails per month seemed to be the right amount for most engaged readers.
It found that companies that only sent one email per month lost their readers because they felt they were forgotten or neglected.
Consistently connecting with your audience is important but don't over do it.
Mistake #3 Your Emails Are Sales Pitches
Emails are designed to build relationships with your customers. It's an opportunity for a customer to get to know, like and trust you.
They want to know about your business not necessarily what your selling. They need to see value.
With the internet, information is at their fingertips. They can easily search for whatever they need and don't need to be sold to in an email.
How to fix it
Give value to your customers and they will come to buy eventually. Address their problems,speak their language and the trust will build.
Emails are not about 'I, i, I' but more about 'you, you'
Your emails need to be an education process for your customers. Every step needs to reinforce that you understand their needs and how you can solve their problems.
Make this education process interesting though. Most of us don't like to be preached at and we usually get bored with the same style of message. Video is a good way to break up your email content and offers a different form of engagement for your readers.
Mistake #4 You Don't Know Your Audience
You're probably thinking customers – credit card waving, cash spending customers when you create your content within your emails.
But with the freedom of information on the net its harder and harder for companies to get people to buy. That's because you're using a blanket approach in your messaging.
Cash spending customers want to feel special. They want emails that speak directly to them.
How to fix it.
You need to define who your audience really is. You can look at your existing customer base to get an idea.
But are they still relevant? Has your company's products or services evolved? Do you need to search for a different market while not forgetting about your existing loyal customers?
What are your customers daily pain points? What keeps them up at night?
Take this information and create a customer persona. Who are they? How old are they? What jobs do they have and an estimate of their income. You can even given this persona a name. Add a photo. Now you have a clear image of exactly who your audience is.
Be mindful though that even though you have a better understanding of your audience there will be difference within. A forty six father of two will have different needs to a single woman of a similar age and will need to be spoken to differently.
This will require segmenting your lists as best as you can.
Mistake #5 Your Voice Isn't Genuine
A lot of email communicators try to speak in a language they think will resonate with their readers.
Perhaps they read or listened to a hipster or guru out there with a big following and they try to impersonate that person. Big mistake.
Gary Vaynerchuk is one business leader that comes to mind where would be entrepreneurs want to emulate.
That usually means dropping the 'f-bomb' into their conversations thinking that people people will love them just as much as they like Gary. Nope. Vulgarity rarely wins.
Gary Vee can pull it off but he is a rarity.
How to fix it
What your audience is really screaming for is honesty. They are wanting somebody they can trust. They are not looking for a fake. They want to get to know the REAL you.
Show them. Don't be afraid to show your imperfections. Give them your warts and all. Nobodies life is perfect so don't pretend yours is. Just be you and those who resonate with you will be your true audience.
Mistake #6 You're Not Promoting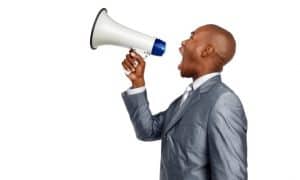 The Rolling Stones release a new album and sell a million copies in a day.
Unfortunately you're not the Stones and you'll need to promote your products or services if you want to make money.
How to fix it
Don't be a basher. We mentioned this early in the piece that your email content can't always be about 'buy, buy'.
But you do need to include calls to action in your emails if you are ever going to make a buck. Be subtle initially and ease your customers into small actions like connecting with you on Facebook.
Get them to visit your site and ask them to leave a comment on a blog post.
But when it comes to promoting your business, do it purposefully. Show the customer how your product or service will solve their problem and why the y need to buy it today.
Give them a rock solid reason to buy now, rather than tomorrow. Perhaps there is a short supply or the price is going up.
But make sure you let people know you have something to buy. It is critical to your survival.
Conclusion
In today's digital world it's very easy for your emails to be ignored. There are simply to many reasons as to why nobody is reading your emails. Give them a great headline and follow the above tips and you'll get more emails read.